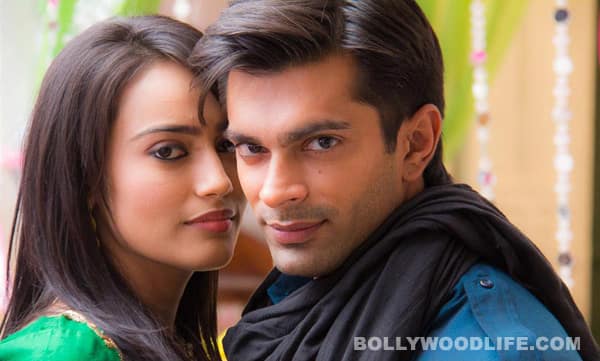 Being non-expressive is a disability that most men possess, just like our brawny hero
Qubool Hai's Asad Ahmed Khan (Karan Singh Grover) has issues we can't comprehend and don't want to. He loves-hates-loves Zoya Farooqui (Surbhi Jyoti), but expressing his feelings out loud is a strict no-no in his book of conduct. So how can anyone really know what's cooking in his head or his heart?
In a previous episode, he got engaged to Zoya in desperation, to keep her from being deported. Now Zoya believed that this was Mr Khan's declaration of love, but little did she know that Asad was still in denial. She confronts and accuses him of playing with her heart, but Asad dismisses her allegations, as he is still trying to figure out what his heart and mind really want.
Finally, at another wedding and under extreme circumstances, Asad's mother Dilshaad declares that she will get her son married within the next ten days – no pressure there. She questions her son about his feelings for Zoya, but Asad is tongue tied (wow, that's a first!) and leaves without answering.
He paces up and down in his room trying to figure out why he can't marry Zoya, why she doesn't deserve him and why he can't live without her. Too many questions and Asad still doesn't have any answers. He fears that he will be like his father, who abandoned his first wife to be with another woman – if you ask us, we know he is nothing like Rashid. Asad is strong, intelligent, self-made and a morally upright man, unlike his dad.
So will he realise this within the next ten days, or will Asad ignore his mother's public announcement and hope that people forget it too? What do you think, BollywoodLifers?