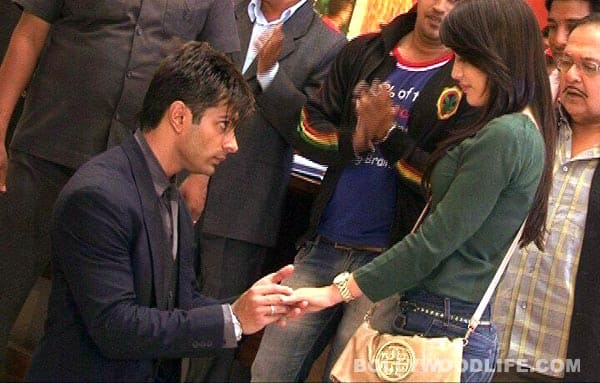 Mr Khan declares his love for Ms Farooqi in full Hindi film ishtyle at the airport – and we can't stop giggling
In the recent episodes of
Qubool Hai
, we saw Asad (
Karan Singh Grover
) asking Zoya (Surbhi Jyoti) to leave the house 'coz of the ruckus she created at Ayaan's engagement ceremony. We all know it was Tanveer's (
Amrapali Gupta
) plan to trap Zoya and it worked marvellously when Razia Begum (Alka Kaushal) accused her of poisoning her daughter Humaira (Ketaki Kadam). Back home, Mr Khan is boiling with anger, miffed with Ms Farooqi for going for the engagement do without telling him.
To make matters worse, Tanveer secretly calls Mr Bhatawdekar (Rakesh Bedi) – the immigration officer – to inform him that Zoya is staying back in India under false pretenses. Asad asks the immigration officer to take Zoya away as she does not deserve to stay in India. An upset and weeping
Zoya
leaves the Khan house. Awww… poor gal!
Well, don't be disheartened yet, 'coz the upcoming episodes are set to bring a million dollar smile to all the fans' faces. It seems that after Zoya leaves, Asad realises that he just let the love of his life go away forever. Realisation strikes our hero, who leaps out of bed and runs off to bring her back. The next sequence is a typical Bollywood romantic drama that ends at the airport.
Asad
is at the international airport – although how he manages to get through all that security is a mystery, 'coz we've tried it ourselves and it just doesn't happen! Mr Khan screams for Zoya in the terminal and runs around to try and find her. He juggles with the security officials running behind him who obviously think he is a terrorist – which terrorist actually comes screaming and barging in like that….really! Nonetheless, when Asad finally finds Zoya, he goes down on one knee, apologises for his insensitive behaviour and then gives her a ring. Blush…blush! What drama, no?
Had he stopped her at home and done the needful he could have avoided all the running around and public hoo-ha, but where's the fun in that. Right?